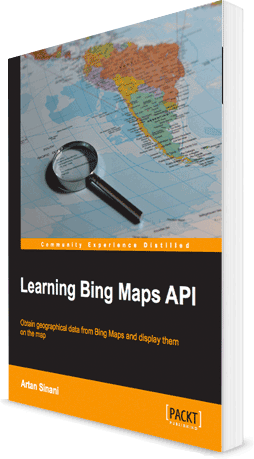 Obtain geographical data from Bing Maps and display them on the map
My new book is finally out. It covers Bing Maps APIs from the grounds up. I have used Bing Maps APIs for more than three years now, and it's a great environment to work with. A great alternative of Google Maps.
With simple, follow-along examples, Learning Bing Maps API will show you how to use the many features of Bing Maps, from dropping a simple map on a web page to fetching geospatial data from the Microsoft servers.
Following the hands-on recipes of this book, you will build a different web app in each chapter as you communicate with different APIs provided by Bing Maps. You will build your own library of JavaScript modules that talk to the Microsoft Maps API.
By the end of the book, you will have learned everything you need to know to embed a map on a web page with your own geo-data, or data obtained from the Bing Map Services.
Email me for a free sample chapter or check out the book at Packt Publishing. For more tutorials check the book's accompanying website learningbingmaps.com, where I will be posting Bing Maps related resources regularly.